Comprehensive Eye Exam in Baytown, Tx
Are you having difficulty seeing or are you due for an eye exam? If so, consider having your next eye exam here at Vision Source Chambers Town Center in Baytown.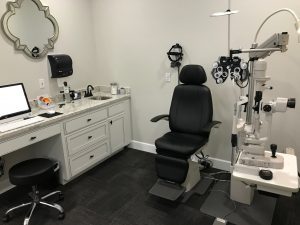 We offer personalized attention and a wide range of eye care services and procedures. Whether you need to be fitted for glasses or contacts, or you require treatment for an eye condition, our goal is to use modern vision care technology, combined with decades of optometric experience to help you see better.
Why should you select us as your vision center?
Our vision center has optometrists and eye care staff that are experienced, knowledgeable and caring.  We offer eye care services and eye care products that are tailored to your individual needs. The eye exams performed at Vision Source Chambers Town Center are thorough, the technology we utilize is cutting edge, and patient care is unparalleled. Dr. Lai has been delivering quality eye exams in Houston, Tx for over 15 years and now provides the same quality of eye care in Baytown. Here are some of the eye care services that we provide at our offices:
Therapeutic Eye Examination
Contact lens Eye Examination and Fit
Dry Eye Syndrome Diagnosis and Treatments
Cataract and Glaucoma Screening and Treatments
Specialty Contact Lens Examinations and Fittings
How often should children get an eye exam?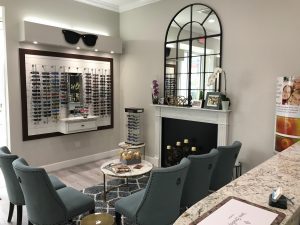 We recommend that children should receive a comprehensive eye examination once they begin going to school and should be performed yearly going forward.  If you are one of many people wondering why we recommend starting eye examinations at such a young age consider these facts:
Children are now exposed to digital screens and blue light at a much earlier age. This results in eye strain, dry eyes, and other vision problems which will continue to increase when kids go to school.
Most learning happens visually. If a child has eye strain, it can prevent them from being able to learn to their fullest potential and can also affect behavior if the child cannot focus.
Many children do not know that they have an eye condition preventing them from seeing their best. They will compensate, sometimes for years, with many parents unaware of the problem.
With childhood diabetes on the rise, one important fact to remember is that diabetes has a very negative impact on the eyes as well. There are other things that your optometrist checks for other than blurriness.
Keep in mind that the visual acuity test performed at schools and at pediatric offices, albeit an important indicator of potential vision issues, does not replace a comprehensive eye exam. The visual acuity test identifies if a child has blurred vision up close or far away. A comprehensive eye exam checks the complete health of the eye, depth perception, color blindness, eye pressure and more, in addition to determining the exact prescription that is needed to see as best as possible.
How often should adults get an eye exam?
For adults, getting an eye examination is just as important. The statistics from the CDC enlighten us to some of the eye conditions and eye diseases that occur in the United States. Getting a yearly comprehensive eye exam can give you a correct prescription and important health clues as well:
There are about 61 million adults in the US classified as being at risk for vision loss. Only half have visited an eye doctor in the past 12 months.
Glaucoma is one of the leading causes of blindness in the US.
Nearly 3 million people have glaucoma, but half do not even realize it because more often than not there are no warning symptoms.
We are dedicated to exceeding our patient's expectations and offer a wide variety of appointment times Monday through Saturday for your convenience. Give our office a call and schedule your eye exam with the best Vision Source Baytown optometrist today!